SPC Flooring Manufacturer
As an SPC flooring manufacturer, we offer SPC products in various styles and colors so that you can find the perfect style for your business or projects.
SPC Flooring Wholesale Guide
Want to import SPC flooring for your projects or wholesale in your market? This ultimate guide would help you with everything about the product and import information.
To save you time, we have also prepared a PDF version containing all the contents of this page. Only leave your email, and you will get the download link immediately.
SPC flooring is a type of vinyl floor made with stone polymer composite materials. These materials are combined to create a durable product resistant to moisture and wear.
SPC flooring is also easy to install and maintain, making it a popular choice for home and commercial use.
No matter where it's installed, SPC flooring is sure to provide a long-lasting, attractive finish.
Our SPC flooring uses 100% virgin material to ensure maximum durability and long-lasting beauty and fulfills heavy-duty performance requirements.
So why wait? Contact us for FREE samples today and see why it's so popular.  
It enhances the clarity of the decoration film and resists fading. 
Scratch Resistance. For durability over 20 years. Widely used for residential areas, shopping malls, etc.
Modern design based on the most popular models on the market.
It is made of superfine stone plastic composite material.
5. Underlayment (Optional)
It uses IXPE or EVA, can enhance the floor's grip, fits existing surfaces, and reduces noise.
6. Click-Lock Installation System
Easy installation and making the floor sturdy and waterproof.
SPC Flooring Technical Data
SPC flooring is waterproof, slip-resistant, and fire-resistant, making it a safe option for many different settings.
Characteristics
Test
SPC
Classification
EN685
21~44
Dimensions
ISO24341
220 * 1220 mm
610 * 305 mm (for tile)
Straightness / Squareness
ISO24342
≤0.25mm
Thickness
ISO24346
5mm ± 0.15mm
Wear Layer Thickness
ISO24340
0.55mm (+13%/ -10% ) 
Weight
EN430
9.3kg/㎡
Abrasion Resistance
EN660:part-1
Group T:≤0.08mm
Residual Indentation
ISO24343-1
≤0.10mm
Chemical Resistance
EN438
Grade 5
Fire Resistance
EN13501 / ISO9239-1
Class Bfl S1(B1)
Dimensional Stability
ISO23999
≤0.12%
Color Fastness
ISO 105-B02:1994
≥Grade 6
Slip Resistance
AS4586 / DIN 51130
R10
Formaldehyde Emission
EN717-1
E1
Curving
ISO23999
≤1.2mm
Peel Resistance
ISO 24345
≥75N/5cm
Click Force
ISO 24334
≥120N/5cm
Anti-scratchs
——
≥2500g
Acoustic Performance
EN ISO 717-2
△Lw=10 dB
Cigarette burn resistance
EN438-2
Class 3
Castor Chair
ISO4918

After 25 000 cycles, no delamination shall occur.
No disturbance to the surface other than a slight change in appearance 
Choose The Suitable Patterns For Your Floor
SPC flooring comes in various colors and patterns, including wooden/marble/carpet patterns, so it is easy to find a style that fits your business and projects.
SPC vinyl flooring is easy to install, durable, and low maintenance. It's an excellent choice for high-traffic areas or rooms.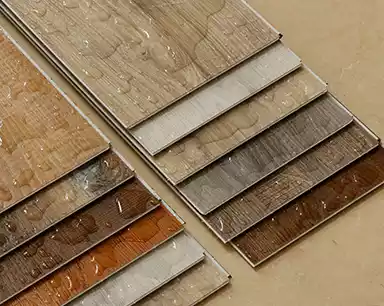 100% Waterproof
The SPC flooring is mainly made of superfine stone powder. It has no affinity with water, so it is naturally waterproof.
Fire Resistant
The SPC flooring's fire-resistant index can reach the B1 level; the fire-resistance performance is excellent.
Scratch resistant
The super wear-resistant layer fully ensures the excellent wear resistance of the SPC flooring—very durable.
Easy Installtion
SPC flooring installation uses high-tech click-lock technology without cement mortar and glue.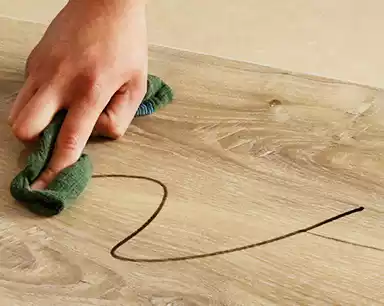 Easy Clean & Maintain
Cleaning SPC flooring is convenient; when it is dirty with a mop that can be wiped, you only need regular maintenance.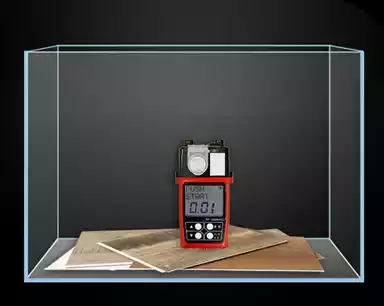 ECO-Friendly
The primary raw material of the SPC flooring is superfine stone polymer composite material, without harmful materials.
SPC flooring uses click-lock installation technology, meaning the planks click together simply like a puzzle.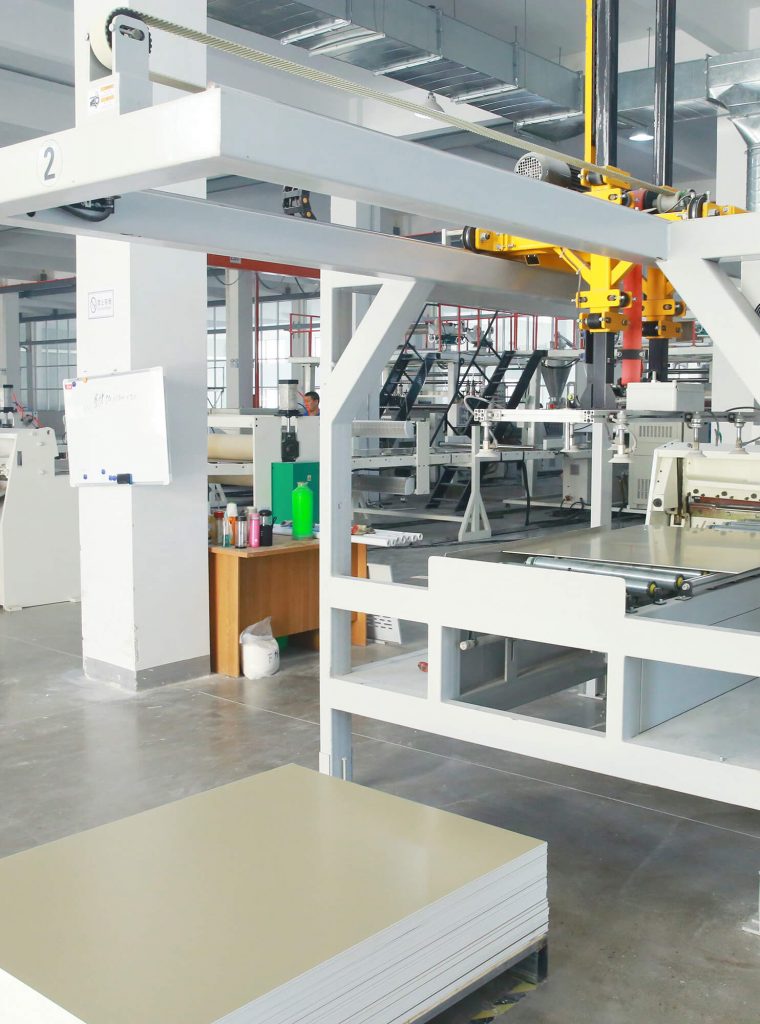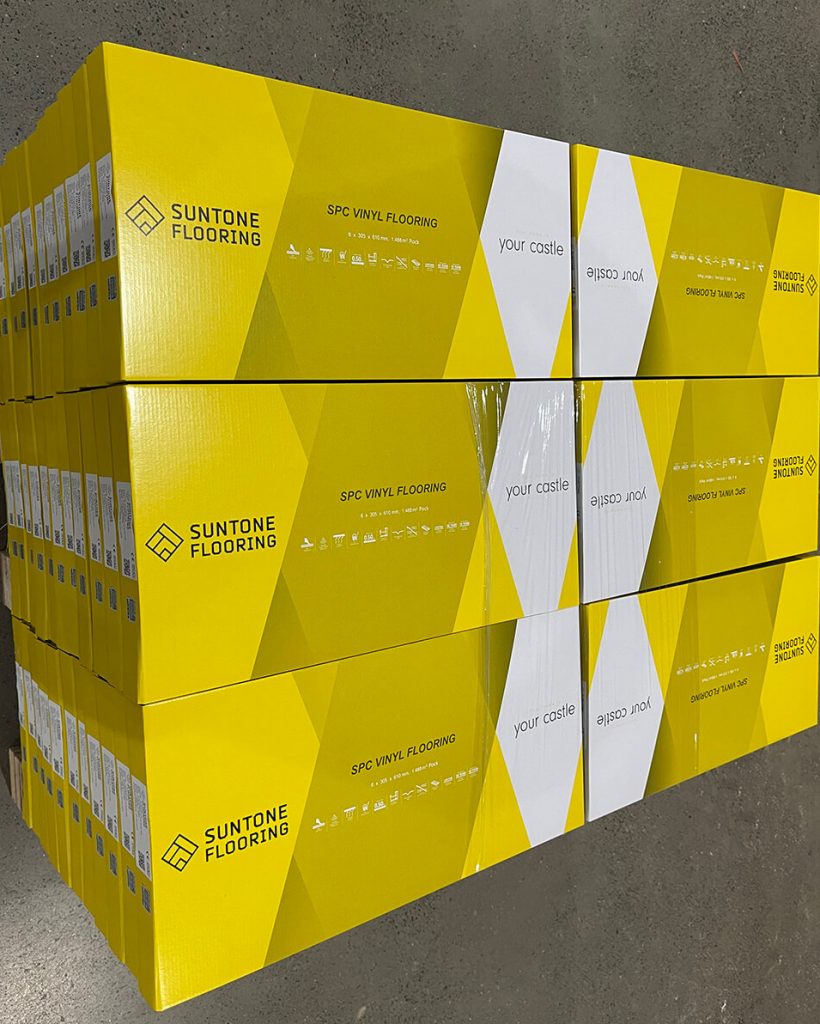 We Have 10+ Years of Experience in Vinyl Flooring Manufacturing
We are passionate about providing our customers with high-quality vinyl flooring that is built to last. We use the latest technology and equipment to create various colors and styles to meet customers' needs.
SUNTONE vinyl floor meets all the necessary quality and safety standards.
We have become a designated OEM supplier for many famous brands abroad, exporting to over 20 countries globally.  You can trust that SUNTONE will be a valuable partner to your business and projects.
You can get the SPC flooring wholesale price directly from our factory, no mid-man, starting at around $5.8 per square meter.
SUNTONE has built a reputation in the vinyl flooring industry through its consistent quality and competitive price in the international market.
Please get in touch with our specialist if you can't find the answers. We're happy to help!
Yes, our free samples are ready for your evaluation upon request.
300 square meters each pattern for standard products.