Vinyl flooring has become an increasingly popular choice for householders because of its affordability, durability, and low maintenance characteristics. With so many brands on the market, choosing the right one for your home can be challenging. This blog post will introduce the world's top 10 vinyl flooring brands for your reference.
Shaw Industries is the vinyl floorer's paradise, providing stylish and modern takes on vinyl flooring surfaces that give a room a beautiful reinvention. This company started in 1967 and has been around for decades, with its headquarters in Dalton, Georgia, and workers worldwide. With more than 24,000 employees working daily to offer vinyl floor tiles, vinyl planks, and vinyl sheets for their customers, Shaw Industries has expanded to become one of the leading vinyl-flooring companies in the world.
Mohawk Industries is an exciting vinyl flooring brand that has brought beauty and innovation to customer floors since 1988. Founded in Calhoun, Georgia, the company remains a leader in its field with more than 42,000 employees worldwide and top of its class vinyl flooring products. Their vinyl flooring features a wide range of designs, colors, textures, and other features for all customers to explore. With this vinyl flooring technology born from generations of expertise, Mohawk Industries creates style solutions to elevate every space. It's time to bring some life into your living room – make it happen with Mohawk vinyl floors!
Founded in 1915, Mannington Mills is a significant vinyl flooring manufacturer based in Salem, New Jersey. It employs about 3000 associates and specializes in both residential and commercial products. In addition to vinyl floorings such as vinyl tile/plank, sheet vinyl/luxury vinyl, resilient rugs, and rubber tiles/mats, the company produces several other flooring solutions like hardwood, laminate, ceramic tile, stone, and porcelain tile. The high-quality vinyl flooring from Mannington Mills offers long-term performance and durability with the latest home or office use trends – perfect for an active household. Mannington Mills boasts an extensive collection of colors and styles for any consumer preference and provides vinyl floorings that stand out with beauty and strength.

Established in 1997, Tarkett is a vinyl-flooring brand with a long and vibrant history. Tarkett is based in France, where they conduct all their operations, and has over 12,000 employees worldwide. Their vinyl floorings products are world-renowned for their superior quality and design aesthetics. They come in various colors and patterns to fit every customer's needs. Whether you need vinyl flooring that is luxurious, eye-catching, or powerfully resilient – Tarkett has the perfect vinyl flooring solution for you!
Founded in the Netherlands in 1928, Forbo Flooring Systems has proudly expanded to locations worldwide. It's headquartered in Baar, Switzerland, and employs 5400 passionate individuals worldwide.
By cultivating long-term partnerships with architects and interior designers all over the globe, they can provide vinyl flooring solutions to meet virtually any design need- at home or at work! With an exciting product portfolio that includes vinyl sheet designs, vinyl covers, vinyl tiles, and much more, Forbo Flooring Systems continues challenging expectations in the vinyl industry.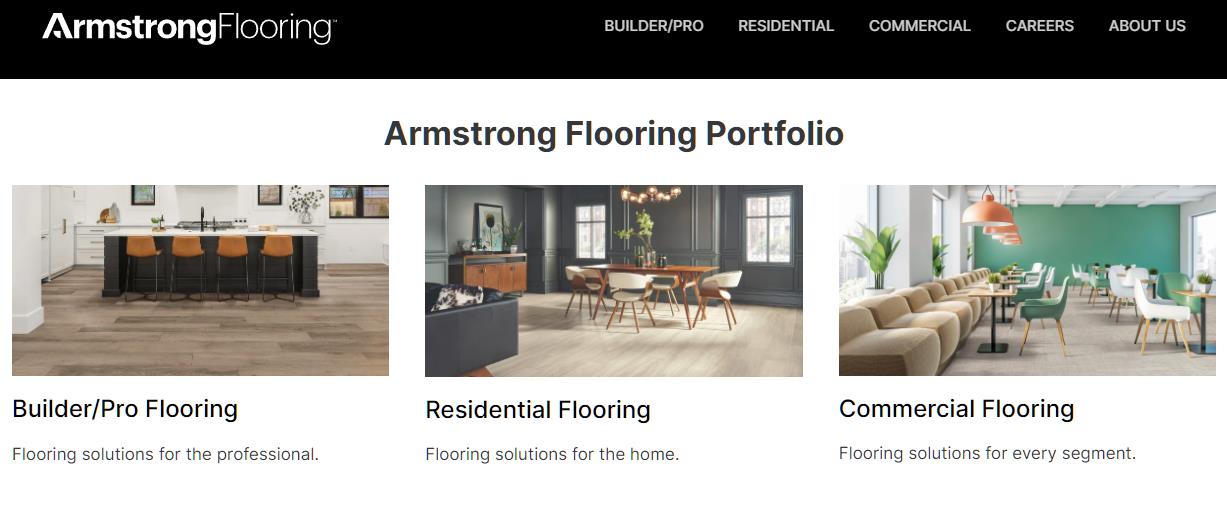 Armstrong Flooring is the leading vinyl flooring brand, providing beautiful and durable products worldwide. Founded in Pennsylvania in 2016, this company has become a leader in the vinyl flooring industry. With facilities located worldwide and employing thousands of people, Armstrong Flooring offers an extensive range of vinyl flooring solutions for residential and commercial settings. Whether you are looking for vinyl tile, leather vinyl tile & plank, vinyl sheet, vinyl composition tile, luxury vinyl tile & plank, or even specialty vinyl products – Armstrong Flooring undoubtedly has something to meet your needs!
Gerflor is an exciting vinyl flooring brand that has quickly made a name in the industry since its founding in 1937. With over 4,000 employees worldwide, this French-based company has expanded its influence to five continents. It continues developing innovative products with eco-friendly vinyl floorings for residential and commercial applications.
For those looking for an energy-efficient vinyl flooring solution with endless design possibilities, Gerflor is a perfect choice!
Interface Inc. was founded in 1973, and since then, they have been shaking up the vinyl flooring world! This global leader has its headquarters located in LaGrange, Georgia but also operates worldwide with many employees passionate about vinyl flooring.
They produce fantastic vinyl flooring solutions which help everyone from individuals to global business owners create their perfect look. The Interface offers innovative solutions paired with quality materials for all types of vinyl flooring needs; Interface has you covered whether your project is big or small.
Congoleum is an energizing vinyl flooring brand that has created walls, floors, and accents since 1886! Founded in New Jersey, USA, over 130 years ago, the company has grown to include seven major production facilities across the continent.
Congoleum employs thousands of manufacturing professionals and makes an extensive range of vinyl flooring products, including vinyl sheets and planks. With such a rich history of providing amazing vinyl flooring options, Congoleum will surely have something beautiful for your home!
Established in 1959 and based in Belgium, Beauflor is a vinyl flooring brand known for its contemporary style and wide range of products. They have experienced growth over the years to become a global leader in vinyl manufacturing, boasting 4900 employees and offering a diverse selection of vinyl sheet products, vinyl planks, luxury vinyl tiles, and commercial vinyl flooring.
With such a wide variety to choose from, it's no surprise that Beauflor vinyl floors are so popular worldwide. From their unique designs to high-quality construction, there is something for everyone who desires to add a touch of long-lasting elegance to their home or office space. Give it a try and experience the difference for yourself today!
These are just a few great vinyl flooring brands available worldwide. Each company offers unique products and has its strengths, so it's important to research and choose the one that best fits your needs.
SUNTONE has been a vinyl flooring manufacturer in China since 2012. We specialize in providing high-quality vinyl flooring to businesses and projects worldwide. Our factory has advanced SPC/LVT production lines and an advanced laboratory to ensure the quality of our products.
We are committed to providing the best materials. We have become a designated OEM supplier for many famous brands abroad, exporting worldwide!
We can help you not only create but evolve your brand!
Contact us to customize your vinyl flooring brand today!