Are you looking for Chinese best and most reliable SPC flooring manufacturer? Look no further! We have researched and identified the top 10 manufacturers leading the industry in China. They provide immense value, excellent service, and great product quality yet competitively priced materials. In this post, we will introduce each of them briefly so that you can make an informed decision as to which one suits your needs the best. So read on as we share these highly recommended and trusted vinyl flooring suppliers in China!
SUNTONE FLOORING is a leading vinyl flooring manufacturer based in China since 2012. They specialize in providing high-quality vinyl flooring to businesses and projects worldwide. They have over ten years of customized vinyl flooring experience with complete customer service and SPC flooring production experience.
SUNTONE FLOORING is committed to providing customers with quality products that meet their needs while offering competitive prices. They strive to provide excellent customer service with quick delivery times so customers can enjoy their new floors as soon as possible.
They can help you not only create but evolve your brand!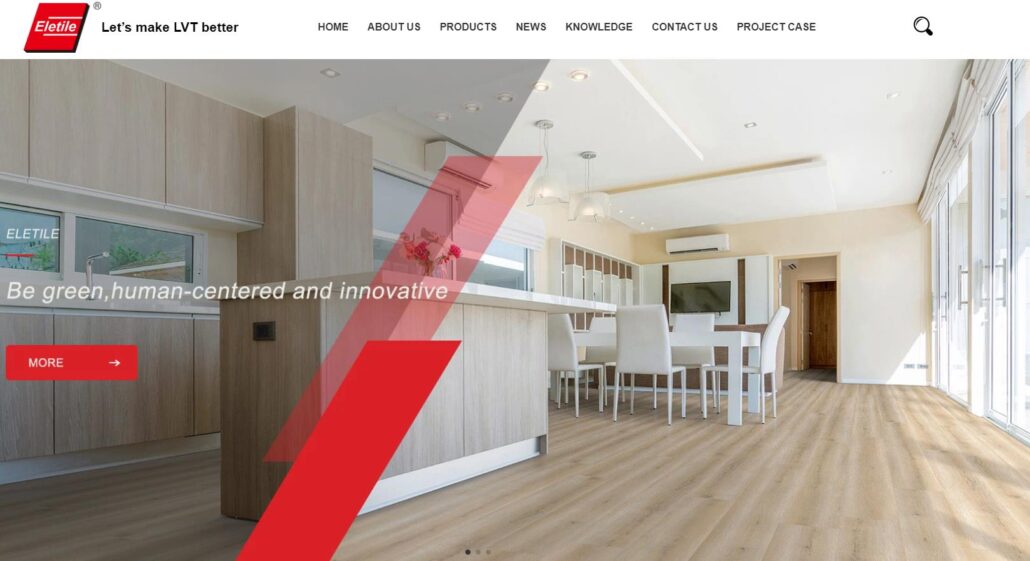 ELETILE Flooring is China's leading manufacturer and exporter of resilient vinyl flooring products. Founded in 1992, ELETILE has become one of the industry's most established and trusted names. With over 25 years of experience, they specialize in producing high-quality PVC floor tiles with beveled edges, UV coating, and environment-friendly materials. They are also one of the first VINYL FLOOR manufacturers in China.
They strive to provide excellent service and quality products at competitive prices. Their team of experienced professionals is dedicated to ensuring that each customer receives the best possible experience when choosing their flooring solution.
Zhejiang Kimay Building Material Technology Co., Ltd is located in Haining, Zhejiang Province, China. Established in 2013, it is a subsidiary of the Haixiang Group, which has been making shoe soles for over 41 years. The company specializes in producing SPC floor and Vinyl floor products. Its famous brand is "WALRUS."
The company has an experienced team of professionals dedicated to providing quality products and services to its customers. They strive to meet customer needs by offering innovative solutions and excellent customer service.
Kingdom Flooring is a professional manufacturer and supplier of luxury vinyl tiles (LVT), WPC flooring, SPC flooring, and other vinyl floorings in China. Founded in 2001, the company has become one of the leading suppliers of high-quality flooring solutions for commercial and residential applications. They also offer other products, including wall panels, moulding, and more.
Kentier Flooring is a professional leader in the industry, providing high-quality and reasonably priced engineered flooring, laminate flooring, PVC flooring, and more. Founded in Jiangsu, China, Kentier has produced top-of-the-line products since its inception.
Their SPC (Stone Plastic Composite) Floor is a massive technical upgrade from a traditional vinyl plank with an advanced generation and improvement of LVT click technology. This product is 100% waterproof and features a wood-like finish with beautiful textures and details to add rich style to interior living areas. It also comes with a lifelong warranty for added peace of mind.
Yongyu Flooring is a global leader in vinyl manufacturing, established in 2000 and headquartered in China. The company is known for its quality, capacity, pricing, and customer service.
Yongyu has 5 major industry-academia-research alliances and 8 production bases in China and abroad, and its products are exported to more than 50 countries and regions.
Bei'er Floor (Jiangsu) Manufacture Limited Company specializes in laminated and vinyl flooring. Established in 1991, the company is headquartered in China and has a factory in Changzhou. Bei'er Floor (Jiangsu) Manufacturing Co., Ltd. is well-known for producing high-quality hardwood, vinyl flooring, and other products.
The company also offers competitive prices based on its experienced production line. They have been providing their products and services to customers worldwide.
M.J. International Co. Ltd. is a Taiwan-based company that manufactures flooring products for sale worldwide, such as luxury vinyl tiles and other related items. Founded in 1982 in Taiwan, the company established a production base in Dongguan City, Mainland China, in 1993. M.J. International is one of the largest professional manufacturers of LVT in Asia, and its products are sold in over 30 countries worldwide. The company also provides OEM/ODM services through its subsidiary MJ Group US, LLC, established in Georgia in August 2021.
M.J International Group continues to be a leader in the flooring industry with their innovative designs and quality products.
Zhangjiagang Yihua Rundong New Material Co., Ltd. is a leading Chinese company producing PVC vinyl floor tiles and other materials. Established in 1989, the company has become one of the largest producers of PVC flooring in China. The company produces registered embossed and printed vinyl floor tiles, PVC leather, anti-fouling wall boards, and SPC (stone plastic composite) flooring.
Yihua is dedicated to providing customers with high-quality products that are both durable and stylish. With over 30 years of experience in the industry, they have established themselves as one of the top suppliers of PVC flooring in China.
Power Dekor is a leading brand in the design and manufacturing of flooring products. Founded in 1995, Power Dekor has grown into one of the world's most well-respected flooring brands, offering various options, including vinyl, hardwood, laminate, and more.
Their products are designed to be both stylish and durable, making them ideal for any home or business. Power Dekor offers a variety of flooring solutions to meet the needs of any customer. They have something for everyone, from luxury vinyl plank to engineered hardwood flooring.
Final Thoughts
There are many options for finding the right flooring manufacturer for your business.
With so many SPC flooring options out there, it's essential to ensure you find the manufacturer who can guarantee your needs are met. That's why we've compiled a list of some of the best Chinese SPC flooring manufacturers in this industry – including their reliable websites, where you'll get all information on top-notch products and unmatched service!