The proper maintenance of your SPC vinyl flooring will help protect your investment by extending the life and performance of your products. Following a few simple steps, you can keep your flooring looking new for years. Here are some tips on how to care for your SPC vinyl flooring:
POST-CONSTRUCTION CLEANING FOR SPC FLOORING
After you complete the SPC flooring installation, cleaning the SPC flooring is essential to remove any dust or debris.
The best way is to dry-mop the SPC floor with a microfiber mop pad or vacuum it thoroughly.
Then, spray a neutral pH cleaner on the SPC floor in manageable areas and mop with a microfiber wet mop pad. If the pad gets dirty, replace it with a new one. Work in sections until the entire floor is clean.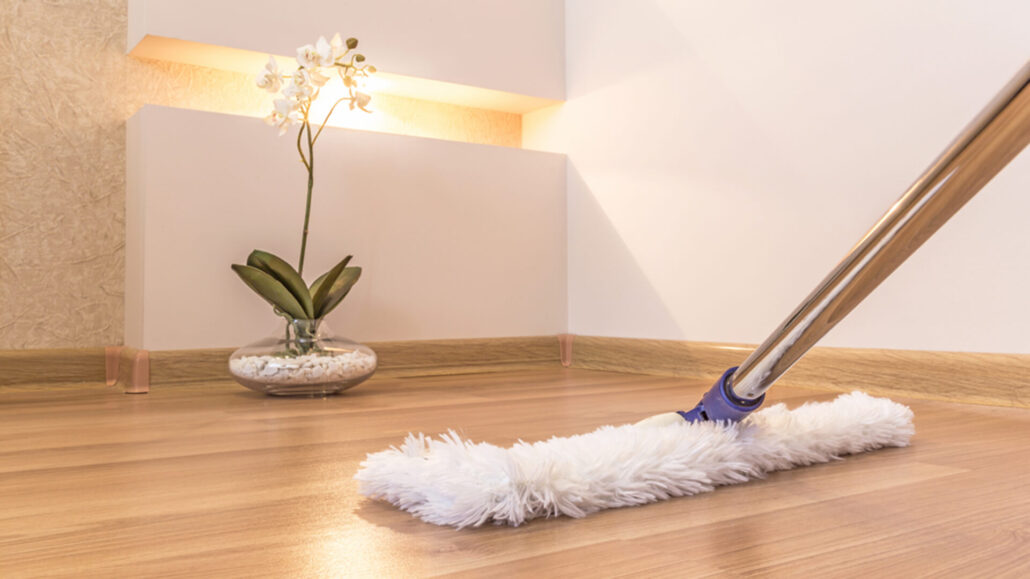 Finally, rinse the SPC floor with water to remove any remaining residue. If you mopped up drywall dust or construction debris with water, you might see a film on the floor after it dries.
To remove this film on SPC flooring, follow the process below:
Use a microfiber dry mop pad to remove any construction dust or exterior soil tracked onto the SPC flooring. If the pad gets dirty, replace it with a clean one.
Apply a neutral pH cleaner to the floor in manageable sections. Use a low RPM (175 rpm) buffer to clean the SPC flooring.
Use a wet microfiber mop pad to rinse the flooring with water, removing any remaining residue. When the mop pad gets dirty, replace it with a clean one.
Repeat steps 2 and 3 as necessary.
You can keep your SPC flooring looking new by following these simple tips.
PREVENTATIVE MAINTENANCE FOR SPC FLOORING
Care for newly installed SPC flooring
Avoid heavy traffic for 24 hours and use proper furniture protection to prevent scratching and scuffing.
Adhere tape to the material used to protect the floor instead of directly to the surface to avoid damage.
Remove adhesive residue with a clean white cloth dampened with odorless mineral spirits or isopropyl alcohol.
We only suggested using the low moisture or damp mopping initially if needed.
Wait four days before normal wet cleaning and auto scrubbing of the SPC floor.
Avoid direct sunlight on SPC flooring as it can cause fading and expansion of SPC planks.
Surface temperature should not reach 140 degrees from sunlight or bed bug treatment as it would cause expansion of SPC planks.
GENERAL MAINTENANCE OF SPC FLOORING
1. Remove dry soil regularly.
Sweep, vacuum, or dust-mop your SPC flooring frequently to remove any soil particles that could abrade the wear layer.
Avoid dust mop treatments, as these products can transfer and attract soil.
When vacuuming, be sure not to use a vacuum with rotating beater bars, as this could damage the surface of your SPC floor.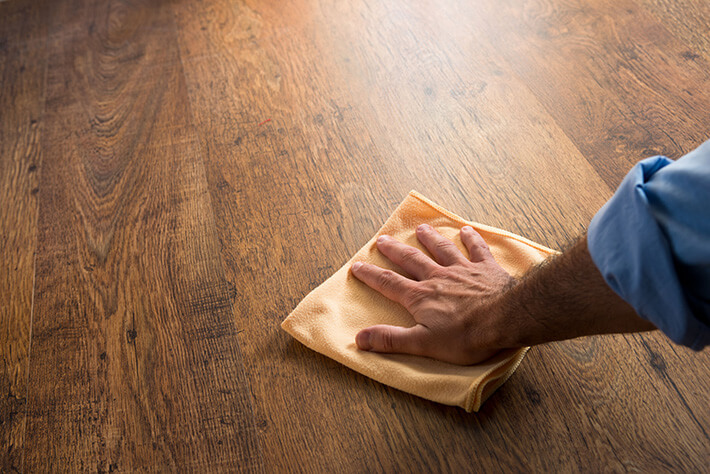 2. To keep your SPC flooring in top condition.
It is important to address any spots or spills that occur promptly.
All spills should be blotted up quickly to avoid staining and slip/fall hazards.
You can absorb the liquid with a cloth and then rinse it with water for wet spills.
If necessary, you can use a neutral pH vinyl cleaner* followed by rinsing with water.
For oil/grease (petroleum-based) spills or scuff marks, you can use isopropyl alcohol or mineral spirits. *Neutral pH vinyl cleaners have a pH of 7 – meaning they are neither acidic nor alkaline, ensuring they will not damage the floor finish.
3. To remove scuffs from your SPC flooring.
You can either clean with an auto scrubber or spray buff with a spray/buff solution. Use a low (175 rpm) machine and red pad for best results. Remember that agitation is key to removing these marks. If you need to remove scuff marks from smaller areas, place a tennis ball on the end of a stick (e.g., broom handle) and use it as a tool. This way, you can remove scuffs from a standing position.
WET CLEANING FOR SPC FLOORING
When cleaning your SPC vinyl flooring, always start with a vacuum or dry dust mop. This will help to remove any initial debris or dirt before wet cleaning.
For the wet cleaning process, use a neutral pH vinyl cleaner and follow the manufacturer's instructions for dilution and use.
Some common systems for this are a microfiber wet mop or mop and a two-bucket system or an automatic scrubber with a red 3M pad or equivalent brushes.
Rinse it with clean water once you've gone over the entire floor surface. Repeat the rinse process to remove any remaining cleaner residue or haze if necessary. Avoid using brown or black pads/brushes, as they can be too aggressive.
Carefully follow the manufacturer's instructions when cleaning products on your SPC flooring.
You can enjoy its beauty and durability for many years by taking proper care of your floor.
SPC VINYL FLOORING REPAIRING
SUNTONE SPC flooring is tough and durable. However, if a plank becomes damaged, it can be replaced.
If the damage is along the room's perimeter, you can simply disconnect the planks until you reach the damaged one. Then, replace the material and reassemble the planks.
However, if it is impractical to disconnect and reassemble the flooring, you can follow this procedure:
Cut out and remove the center of the damaged piece using a circular saw and/or a multi-tool saw, leaving approximately a 1″ (25.4mm) strip attached to the surrounding material.
Then, carefully cut back from the corners of the plank or tile to the inside edge. Finally, remove the edges by wiggling the cut plank out from the tongue and groove of the surrounding pieces.
Prepare the replacement plank by removing the leading edge of the tongue profile on the long side and the end of the plank. Be careful not to damage the decorative surface.
You will also need to remove the bottom of the groove on the short end side by cutting at an angle to remove it once the plank is prepared and test-fit it by inserting the groove into the tongue.
Position the replacement piece by engaging the groove into the tongue of the adjoining material.
"Hinge" the prepared replacement plank into position. Slightly lift the plank's prepared side, apply a thin sealer onto three exposed seams, carefully position the plank, and wipe excess from the surface.
Use a hand roller to assist in aligning the edges into position.
Finally, weigh the replaced plank for at least 15 minutes until the sealer secures the material.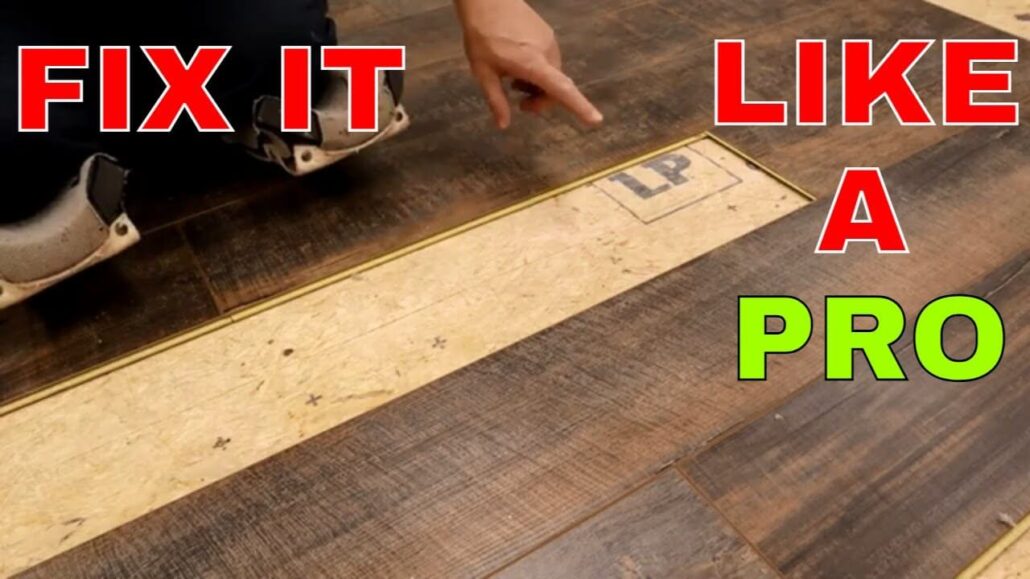 SPC flooring is an excellent investment for your home. You can enjoy its beauty and durability for many years by taking proper care of it.
Just follow the steps outlined in this article, and your floor will look good as new in no time.